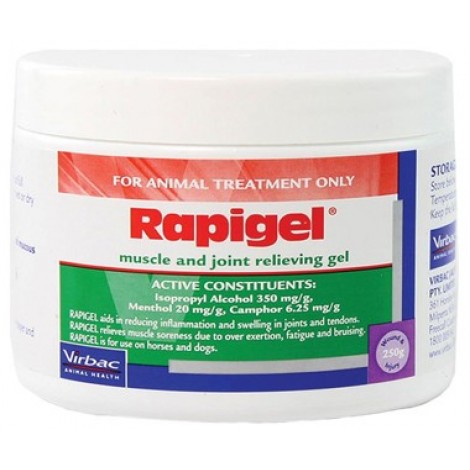 Arthritic joint and muscle relieving gel for dogs and horses.
Rapigel aids in reducing inflammation and swelling in joints and tendons.
Rapid Gel relieves muscle soreness due to over-exertion, fatique or bruising.
Simply apply by rubbing gel over sore area twice daily.
Can be used under wet or dry bandages.
Composition: Menthol 20mg/g, camphor 6.25mg/g, isopropyl alcohol 350mg/g in a gel base.
Presentation: Gel: 250g (8.75 ounce)
Specifications
Package Information
1 x 250gm Tub
For
Dogs Cats Horses
Active Constituents
Menthol 20mg/g Camphor 6.25mg/g Isopropyl Alcohol 350mg/g
Application
Topical
Safety Information
Avoid any contact with eyes or mucous membranes. Do not apply to broken skin
Virbac Rapigel 250gms (8.75 oz)