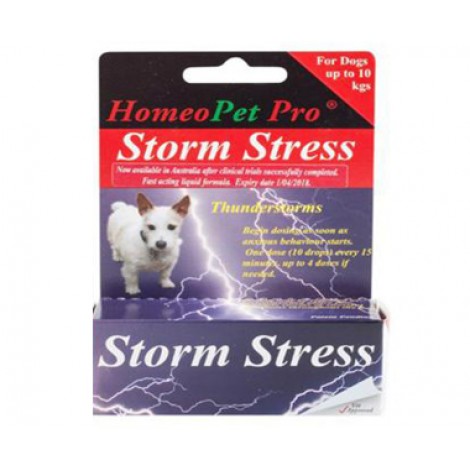 For Dogs 15mL
May aid in providing relief from storm stress for dogs
Is your cat or dog scared of thunder?
Perhaps your dog is scared of fireworks or your cat or dog is scared of loud noises? It is a common problem for your pet to be scared of storms and it can be very distressing for both the pet and the owner. Most people don't know what to do or how to provide comfort to a cat or dog scared of thunder
With HomeoPet Storm Stress you no longer need to worry. HomeoPet Storm Stress is formulated by veterinarians using 100% natural, plant-based ingredients. It has been clinically trialed worldwide to promote a sense of calm and relieves stress in a cat or dog scared of thunder and storms. It is a liquid solution that is fast acting, usually within minutes or hours without any side effects
For general anxiety issues, you may wish to refer to HomeoPet Anxiety
In Australia, the leading behavioural Veterinarians Dr. Seskel, Dr. Ley, Dr. Blackman and Charles Sturt University conducted major triple blinded trials that show significant results in reducing dog storm phobia
Fearful behaviours such as cat or dog shaking, panting, drooling, fear, hiding, and destructive behaviour can be helped with Storm Stress. These are common physical and psychological symptoms associated with a cat or dog scared of thunder or storms, frequently referred to as dog storm phobia or dog noise phobia or dog storm anxiety. The same applies to our cat friends
HomeoPet has been in providing natural animal solutions worldwide for over 20 years. The entire range is based on 100% natural plant and mineral ingredients and is formulated by Veterinarians. HomeoPet's range is designed to help pets and their owners achieve healthy outcomes for a range of common animal conditions and have no side effects.
Instructions For Use
Begin dosing as soon as anxious behaviour starts
One dose every 15 minutes, up to 4 doses may be provided
Dosing may be repeated as above for multiple storms or stressful situations throughout the day
Discontinue treatment as condition improves
Formula only needs to be used while pet is anxious, discontinue use once pet is calm
It is preferable to dose directly into the mouth, but can also be dropped into water, food or treat
Instructions For While Owner Is Away
15 drops of Storm Stress may be put in water bowl for each dog that is home alone during storm season or similar events.
Dosage
Homeopet Storm Stress Pro for Dogs