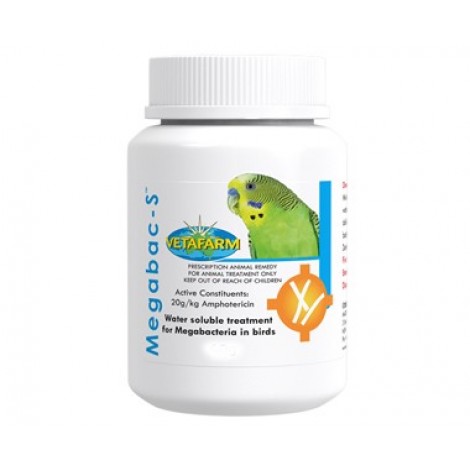 Active Constituents: 20g / kg Amphotericin
Megabac - S is a soluble treatment for Megabacteria in caged and avery birds.
Dose Form: Soluble Powder
Indications: A unique medication that allows in water treatment of affected flocks. For treatment of yeast ( megabacteria ) infections.
Dosage Rate: Add 600mg ( just over 1/2 gram ) to 120ml of clean drinking water. The enclosed spoon holds 600mg ( level spoonful ) 120ml is approx 1/2 cup.
Directions: Supply medicated water as the only source of water for 10 days. Avoid direct sunlight on medicated water & mix fresh solution daily.
Therapeutic dose depends on of 6ml per 100gm body weight. During the treatment period, thorougly clean the aviary using Avicare disinfectant to ensure that all souces of infection are eliminated.
May also be used for the treatment of Candida infections in ornamental birds.
Specifications
Active Constituents
20g / kg Amphotericin
Application
Soluble Powder
Megabac - S
Not available to Australian Customers