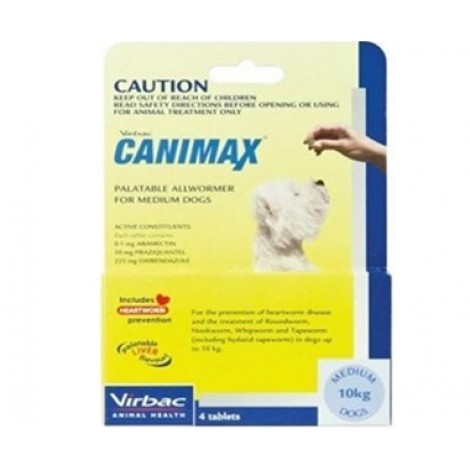 Active Constituents: Each tablet contains 0.1 mg Abamectin, 50 mg Praziquantel, 225 mg Oxibendazole.
Treats dogs: 11-22lb (5-10kg)
4 tablets last 6 months. Treat every 6 weeks.
Canimax also treats
Roundworm
Hookworm
Whipworm
NOW tapeworm, including Hydatids.
Prevention of heartworm in dogs.
Can be used in puppies, lactating bitches and older dogs.
Safe to use in collies.
Puppies can be treated from 6-8 weeks of age according to weight and re treat every 6 weeks.
Very popular in the U.S !
Specifications
For
Dogs 5-10kgs (11-22lbs)
Active Constituents
0.1 mg Abamectin, 50 mg Praziquantel, 225 mg Oxibendazole
Application
Oral
Canimax for Dogs 11-22lb (5-10kg)