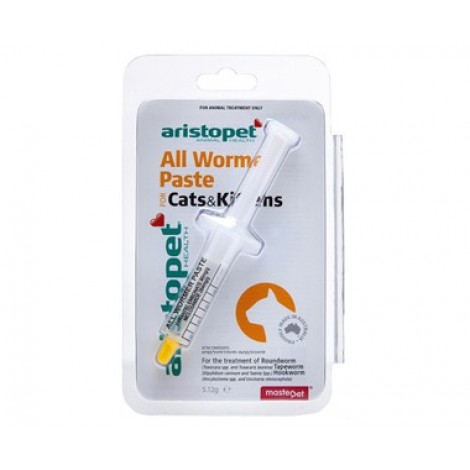 Your cats and kittens needs continual protection from parasites and a regular treatment program is the best way to keep your pets healthy. This 3 monthly paste is an easy way to keep you cats and kittens worm free.
Specifications
Package Information
Treatment: Treat kittens at 4,6,8 and 12 weeks of age, and there after every 3 months. It comes with an easy to use syringe to administer the paste.
For
Cats and Kittens up to 8kg.(17.8lbs) For the treatment of Roundworms, Hookworms and Tapeworms in cats and kittens
Active Constituents
Pyrantel Ebonate 90mg/g & Niclosamide 264mg/g
Application
Easy to administer palatable paste that can be given by mouth, mixed with food or smeared onto the cats fur where the cat will lick it off.
Aristopet AllWormer Paste Worming For Cats And Kitten 5.12gms