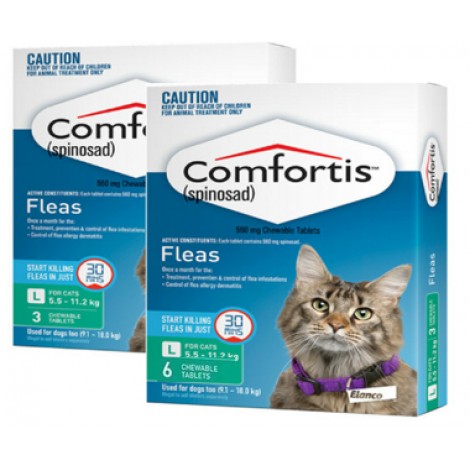 NOTE: Comfortis is not for sale to USA residents due to manufacturer restrictions, please consider Revolution as an alternative.
Active Constituents: Each tablet contains 560 mg Spinosad

Cats 5.5-11.2 kg ( 12-24.6 lb ) 6 Tablet Pack
For: Cats (14 weeks of age or older )
Application:
Starts killing fleas within 30 minutes
Lasts a full month
Kills fleas before they can lay eggs
Comes in a convenient chewable, beef-flavored tablet
Spinosad, the active ingredient in Comfortis, is environmentally friendly.
How it works: Spinosad kills fleas by causing excitation of the insects nervous system, leading to paralysis and rapid death.
Cautions:
Side effects may occur, including vomiting. If your pet is experiencing loss of appetite, lethargy, or any other difference in behavior, contact your veterinarian. The FDA has received reports of adverse reactions in dogs receiving the drug Comfortis (spinosad) concurrently with high, extra-label doses of ivermectin. Dogs receiving extra-label doses of ivermectin to treat non-responsive demodectic mange and other conditions have developed signs of ivermectin toxicity
Specifications
For
Cats 5.5-11.2 kg ( 12-24.6 lb )
Active Constituents
560mg Spinosad
Application
Oral
Comfortis Green Cat
Not for sale to USA customers