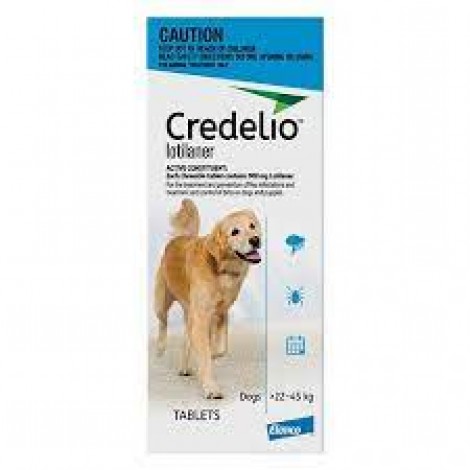 Active Constituents: 900mg Lotilaner
Credelio Large Dog Blues 48-99lbs (22-44kgs)
Expiry: November 2023
For the treatment and control of Paralysis Ticks, Brown Dog Ticks and Bush Ticks.
Kills fleas.
1 chew will give protection for 1 month.
Starts killing fleas in 4 hours and kills 99% within 8 hours for 35 days.
Credelio is greater than 97% effective against labeled tick species 48 hours after administration or infestation for 30 days.
Credelio's active ingredient (Lotilaner), is a member of the isoxazoline family, a novel class of parasiticides that target nerve receptors of ticks and fleas for powerful protection.
Rapidly kills fleas before they have a chance to lay eggs.
Controls flea allergy dermatitis (FAD) by controlling adult fleas.
In tick season daily searching for and removal of any ticks found is recommended.
Dosage: One chew per month.
Not recommended for: For puppies less than 8 weeks old and below 2.86lbs (1.3kgs) in bodyweight.
Safety Information:
Lotilaner is a member of the isoxazoline class of drugs. This class has been associated with neurologic adverse reactions including tremors, incoordination, and seizures.
Seizures have been reported in dogs receiving this class of drugs, even in dogs without a history of seizures. Use with caution in dogs with a history of seizures or neurologic disorders.
The safe use of Credelio in breeding, pregnant or lactating dogs has not been evaluated.
The most frequently reported adverse reactions are weight loss, elevated blood urea nitrogen, increased urination, and diarrhea.
For complete safety information, please see Credelio product label or ask your veterinarian.
Credelio™ and the diagonal bar or logo are trademarks of Elanco or its affiliates. ABN 64 076 745 198. Level 3, 7 Eden Park Drive, Macquarie Park NSW 2113
Credelio Large Dog Blue 48-99lbs (22-44kgs) 6 Chew Pack