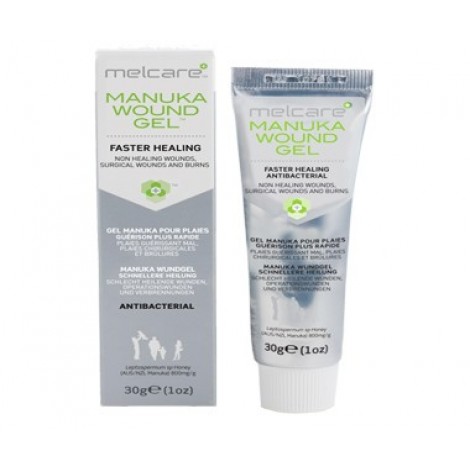 Manuka Honey Wound Gel a Natural Fast Healing Gel That Really Works!

Manuka honey is the leading natural wound dressing gel used throughout the world. it's dual action cleansing properties provides an ideal environment for healing.

With manuka honey wounds will heal up to 30% faster in the early stage of healing. Melcare's Manuka wound Gel combines the best properties of pure manuka honey and a natural oil for added protection. A superior natural dressing.

Directions for use:
Inspect and clean the wound
Open by reversing cap and twisting off top.
Manuka Wound Gel should be applied liberally (e.g. for a 10cm x 10cm wound apply 20-25g of Manuka Wound Gel).
Manuka Wound Gel can be applied either directly to the wound or to a suitable dressing.
Avoid direct contact with the nozzle of the tube.
Manuka Wound Gel can be removed from the wound by rinsing with clean saline or tap water at dressing change.
Apply a generous quantity (approx. 3 mm layer) directly onto the wound or an appropriate dressing.

Precautions:

Serious, infected or non-responding wounds should be managed under professional advice.