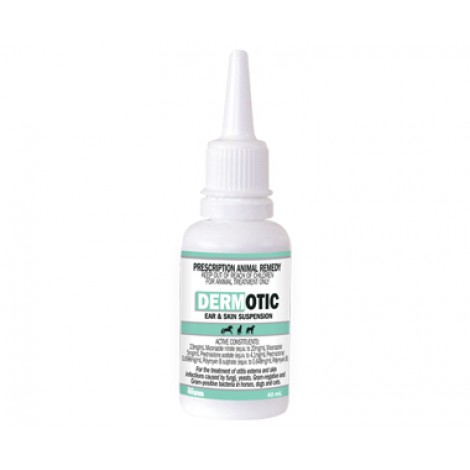 Active Constituents: Miconazole nitrate 23 mg/ml,Prednisolone acetate 5 mg/m, Polymyxin B sulfate 0.696 mg/ml
Treatment of otitis externa and skin infections caused by fungi, yeasts, gram-negative and gram-positive bacteria in horses, dogs and cats.
Dermotic is not active against ear mites.
Shake well before use.
After the clinical signs have completely disappeared,continue treatment without interruption for several days.
In certain obstinate cases it may be necessary to continue treatment for 2 to 3 weeks.
At the beginning of treatment cut the hair surrounding or covering lesions.
Otitis Externa:
Instil 3 to 5 drops into the ear twice daily.
Gently massage the ear to ensure even distribution of the product.
Skin Infections:
Apply to the affected area twice daily.
Dermotic Ear & Skin
Not for Sale to Australian Customers