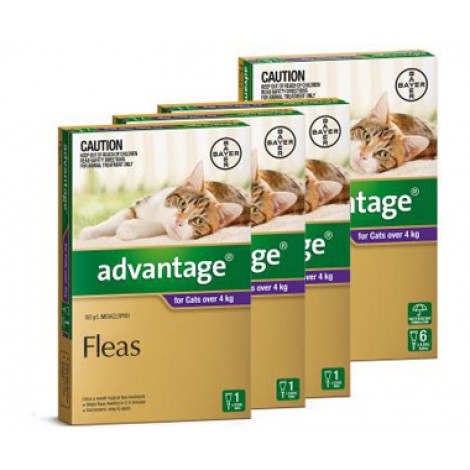 Active Constituents: 100 g/L Imidacloprid
Cats 8.8-19.8lb (4-9kg) Apply 1 vial per month
The spot-on that doesn't need fleas to bite to take effect. Advantage stops fleas biting fast.

Why choose Advantage?

Fastest relief from painful flea bites
Stops fleas biting in 3-5 minutes.(1)
The only product to kill fleas on contact, without the need to bite. So pets suffer less of those painful flea bites and less Flea Allergy Dermatitis (FAD).
Breaks the flea lifecycle
Prevents infestation if your treated pet comes into contact with other pets with fleas.
Kills adult fleas and flea larvae within 20 minutes of contact.
Advantage is waterproof, Advantage is so safe it can be used on kittens from day one. It can also be used on pregnant and lactating queens.
Yes its true, Advantage is so safe you can use it on your pet rabbit or ferret too.
Advantage ® are registered trade marks of Bayer AG. these trade marks may not be used without the express permission of Bayer AG or its authorised licensee in Australia, Bayer Australia Limited" Not available for sale to the USA
This is an Australian registered product labelled in kilograms. A spot on applied once a month to the skin at the back of your dogs neck, Advantage is a registered trademark of Bayer A.G. Leverkusen, Germany.
Specifications
Package Information
0.8mL Vial
For
Cats 4-9kg (8.8-19.8lbs)
Active Constituents
100 g/L Imidacloprid
Application
Topical
Advantage Large Cat (Purple)