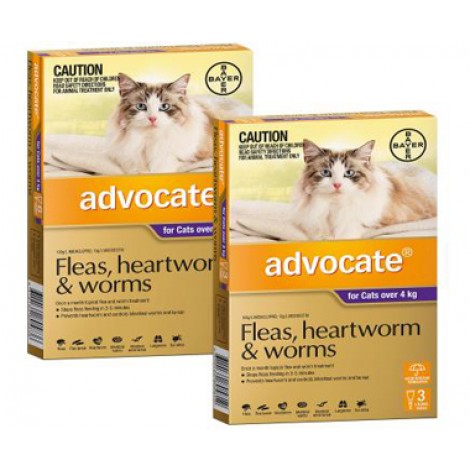 Active Constituents: 10 % v/w Imidacloprid (100g/l) 2.5 % v/w Moxidectin (25g/l)
For cats 8.8-19.8lbs (4-9kgs)
An easy-to-use spot-on application.
Advocate acts on multiple stages of parasites to treat infections faster and sustain protection longer.
Advocate provides fast relief from fleas.
Advocate prevents deadly heartworm.
Advocate protects your pet and family from gastrointestinal worms.
Advocate controls ear mites.
Advocate controls demodex.
Advocate treats and prevents sarcoptic mange.
Advocate lasts all month and is easy to use.
Advocate is waterproof.
Advocate is tough on parasites but gentle enough to use on kittens from 9 weeks. Advocate is so safe you can use it on your pet ferret from 1.76lbs (0.8 kgs) too.
Specifications
For
Cats over 4kg ( 9-19.8lbs)
Active Constituents
10 % v/w Imidacloprid (100g/l) 2.5 % v/w Moxidectin (25g/l)
Application
Topical
Advocate Large Cat (Purple)