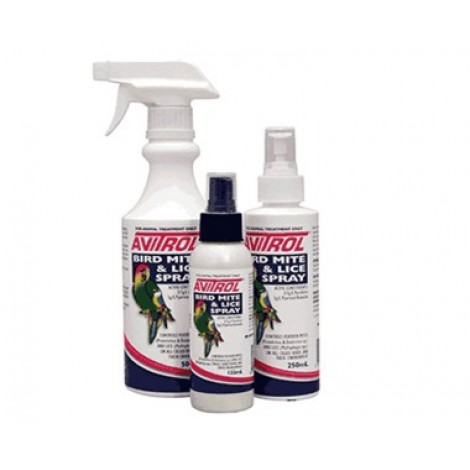 Active Constituents: 0.5g/L Pyrethrins, 5g/L Piperonyl Butoxide
Controls feather mites and lice on caged birds and their environment.
Based on the natural pyrethrin.
Ready to use spray bottles.
Safe and economical.
Dosage: Before applying remove all food and water from the cage. Hold spray about 40cm from bird and spray directly onto it.Avoid spraying in eyes. Also spray cage, perches and nest box thoroughly to avoid reinfestation as mites will inhabit
and lay their eggs in secluded places.
Repeat as necessary.
Available in 4.25floz (125mL), 8.5floz (250mL) and 17floz (500mL) bottles.
Avitrol Bird Mite and Lice Spray