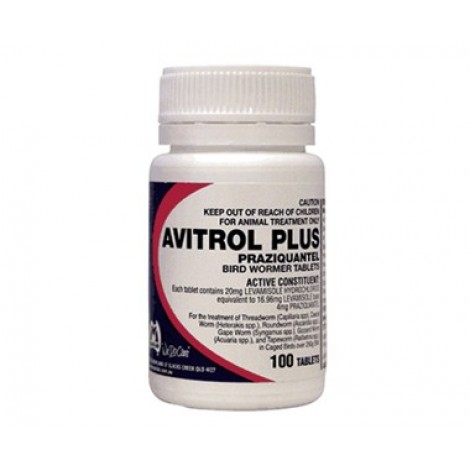 Active Constituents: Levamisole hydrochloride 20mg, Praziquantel 4mg

Avitrol Plus is an allwormer for all caged birds over .0088oz (250gm).
Threadworm (Capillaria sp.).
Caecal worm (Heterakis sp.).
Roundworm (Ascaridia sp.).
Gape worm (Syngamus sp.).
Gizzard worm (Acuaria sp.).
Tapeworm (Raillietina sp.).
Dosage:
9-17oz (250-500gms) half a tablet.
17-26oz (500-750gm) 1 tablet.
26oz-2.2lbs (750gms-1kgs) 1 and a half tablets.

PRECAUTIONS:
Parrots appear to be less tolerant than pigeons to levamisole.
Do not dose in extremely hot, dry weather or treat stressed birds, or birds that are feeding young.
Treatment during the breeding season or racing pigeons is not recommended. Vomiting may occur.
To reduce the likelihood of vomiting, do not handle birds for at least ten minutes after treatment.
Do not feed Birds for 24 hours before or three hours after treatment.
All birds in the same loft or cage should be treated and the loft or cage cleaned and disinfected three days after treatment.
If worm problems persist consult a veterinarian.
CONTRADICTIONS:
Administration to species or strains of birds known to be sensitive to the effects of levamisole.


Specifications
For
Birds
Active Constituents
Levamisole hydrochloride 20mg, Praziquantel 4mg
Application
Oral
Avitrol Plus Bird Wormer 100 Tablets