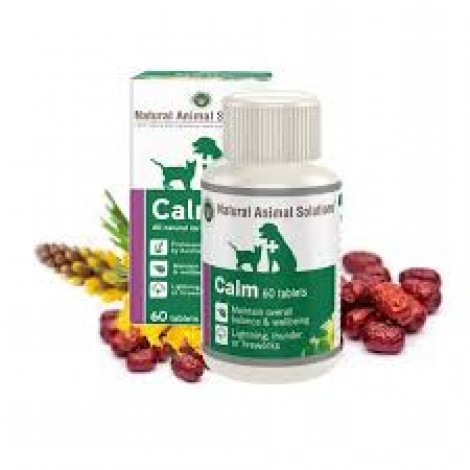 Active Constituents: Ziziphus jujuba spinosa, Angelica polymorpha, Codonopsis pilosula, Astragalus membranaceus, Schisandra chinensis, biota orientals, Cistanche salsa, polygala sibirica, Lycium chinensis, Poria cocos, Corydalis ambigua, Platycodon grandiflorus, Anemone altaica, Lecithin powder.
Natural Animal Solutions Calm tablets, aids in preventing or alleviating fear in pets.
Naturally calming and relaxing formula for dogs and cats suffering from stress and anxiety.
Professionally formulated by Australian naturopaths.
Maintains overall balance and wellbeing.
Helps maintain normal nervous and immune system functions.
Formulated for circumstances such as fireworks, lightning or loud thunderstorms.
Easy to use, requiring small doses.
Tablets can be crushed, added to a treat, added to food or given orally as a tablet.
Administer orally or add to food.
For a single event, administer a dose 10 minutes before the event.
Dosage:
Animal Weight Serving
Cat: up to 22lbs (10kgs) ¼ tablet x 2 daily
Toy Dog: up to 22lbs (10kgs) ¼ - ½ tablet x 2 daily
Small Dog: 22-44lbs (10-20kgs) ½ - 1 tablet x 2 daily
Medium Dog: 44-88lbs (20-40kgs) 1-2 tablets x 2 daily
Large Dog: over 88lbs (40kgs) 2–3.5 tablets x 2 daily
Natural Animal Solutions Calm 60 Tablets