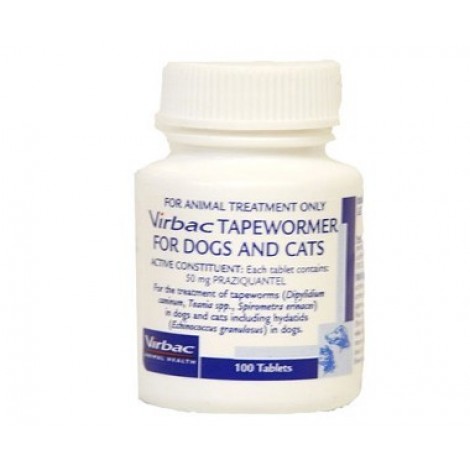 Active Ingredients: Praziquantel 50mg
Effective for the treatment of tapeworm.
1 tablet treats 10kg (22lbs)
Expiry: November 2023
Tapewormer tablets are easier to swallow due to the small size and half scored for ease of dosing according to weight.
Safe, works well in combination with current all in one intestinal worm and flea prevention products.
Cost effective: Provides an alternative to customers who may hesitate to worm their animal because of the high price of competitor products.

Side Effects: The side effects of Virbac Tapewormer are rare at the recommended dosage.
Virbac Tapewormer has a wide margin of safety for all sizes and breeds of dogs and cats.
It is approved for use in puppies and kittens as young as 12 weeks, old animals, greyhounds, working dogs, pregnant females, breeding bitches and queens.
Virbac Tapewormer may be combined with other treatments, for example heartworm prevention, flea and tick treatments and vaccination.
Cautions: Do not use in puppies and kittens under 12 weeks of age. This medication should not be used in animals allergic to Praziquantel.
Directions:
Weigh dogs and cats before treatment.
Dogs and cats are treated by weight with the appropriate number of tablets.
All tablets are to be administered at the same time, by mouth, or crushed and sprinkled on food.
A common regime for treatment is to worm dogs and cats every 3 months commencing at 3 months of age.
In hydatid prone areas worm dogs and cats every 6 weeks.
In cases of infection with Spirometra erinacei (zipper worm) the dose rate should be increased to 1 tablet/2.5 kg (5.5lbs)
For Hydatid Tapeworm Control in Dogs: Treat every 6 weeks.
Other Tapeworms: Treat every 3 months and treat your pet regularly for fleas.
Pregnant Bitches & Queens: Treat prior to mating, 10 days before and 4 weeks after birth and then every 3 month
Specifications
For
Dogs 10kg (22lbs)
Active Constituents
Praziquantel 50mg
Application
Oral
Virbac Tapewormer 10kg (22lbs)