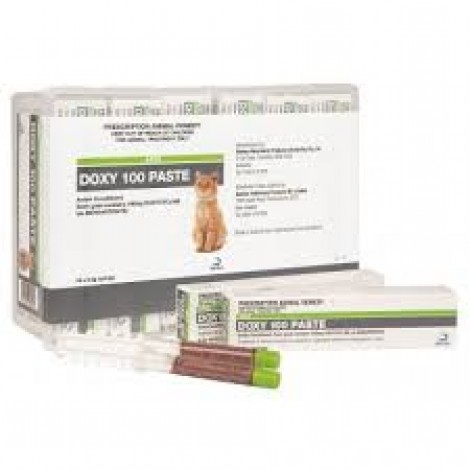 Doxy 100 Paste for Cats 2.5gm Syringe
Active Constituents: 100mg/g Doxycycline
Treatment of bacterial infections caused by organisms sensitive to Doxycycline in cats. This includes treatment of infections of the skin, upper and lower respiratory tract, genitourinary tract, middle ear, skeletal system and gastrointestinal tract.
This product is contraindicated for use in the last trimester of pregnancy or in neonatal animals (first month of life).
Doxycycline is an advanced analogue of the tetracycline family of antibiotics with broad spectrum activity against Gram-positive and Gram-negative bacteria, including penicillinase producers and anaerobes, as well as Rickettsia, Chlamydia (Chlamydophila) and Mycoplasma. Activity has been demonstrated against a wide range of bacterial organisms including Staphylococcus sp., Streptococcus sp., Escherichia coli, Pasteurella sp., Haemophilus sp., Clostridia sp., Listeria sp., Bacteroides sp., Bordetella sp., Klebsiella sp. and others.
PrecautionsThe use of tetracycline antibiotics in young animals prior to the eruption of adult teeth may lead to permanent yellow discolouration of the teeth. The absorption of doxycycline may be affected by the presence of antacids containing aluminium, calcium and magnesium salts. Use of antacids should therefore be avoided by patients receiving doxycycline.
Dosage and Administration for Cats: Loading dose: Give 5mg/kg, followed by two doses of 2.5mg/kg at twelve hourly intervals. Maintenance: Give 2.5mg/kg every 24 hours. Paste should be administered in conjunction with or immediately following feeding. Duration of therapy should be for 5 to 7 days or for 48 hours after clinical signs have subsided. Longer duration of therapy (up to 28 days) is recommended for chronic urinary, respiratory and skin conditions. Chronic skin disease 10-20 days Chronic cystitis 10-28 days Respiratory disease 8-10 days
Store below 30degC (room temperature). Protect from light.
Doxy 100 Paste for Cats
Not for Sale to Australian Customers