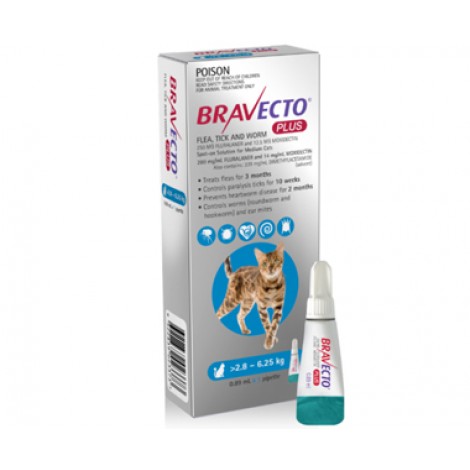 All pet medications offered for sale are classed as OTC (Over the Counter Products) on this site, dispensed from an Australian jurisdiction.
NOT FOR SALE TO USA
Active Constituents: 280mg/mL Fluralander and 14mg/mL Moxidectin, 339mg/mL Dimethylacamide (solvent)
Expiry: February 2024
One pipette contains 0.88mL
6 in 1 spot on protection for your cat.
Bravecto Plus Blue for Medium Cats 2.8 – -6.5kg (6.1– 14.3lbs) Spot On – 1 x 0.88mL Pipette
Bravecto Plus is a revolutionary advancement in feline healthcare. With 2 x longer lasting flea, paralysis tick and heartworm protection PLUS worm and ear mite treatment in just one simple and easy single spot on treatment.
Indications:
Treatment and prevention of flea infestations for 3 months.
Treatment and control of paralysis tick for 10 weeks.
Rapid onset of action kills newly emerged adult fleas before they lay eggs.
Reduces incidence of flea allergy dermatitis (FAD) by controlling adult fleas.
Prevention of heartworm disease for 2 months.
Treatment and control of roundworm
Treatment and control of hookworm
Treatment and control of ear mites
Benefits:
Effective treatment and prevention of fleas on cats for 3 months.
Kills pre-existing and new infestations of paralysis ticks for 10 weeks.
Effective prevention against heartworm for 2 months.
Treatment and control of ear mites.
Safe for use in kittens from 9 weeks of age, weighing at least 1.2 kg.
One fuss free spot-on treatment covers beyond the length of the average flea life cycle, providing rapid and persistent
Effective against fipronil-resistant strains of fleas.
Ideal for cats that:
Are currently on a monthly combination treatment - with Bravecto Plus you treat every 2 months, half as many treatments for your cat.
Are at risk of paralysis tick - only Bravecto® Plus combines paralysis tick, flea and worm protection in one simple spot- on.
Are difficult to treat for roundworm and hookworm with a tablet.
Buying from the USA? We require an RX before dispatch
Bravecto Plus for Medium Cats Blue