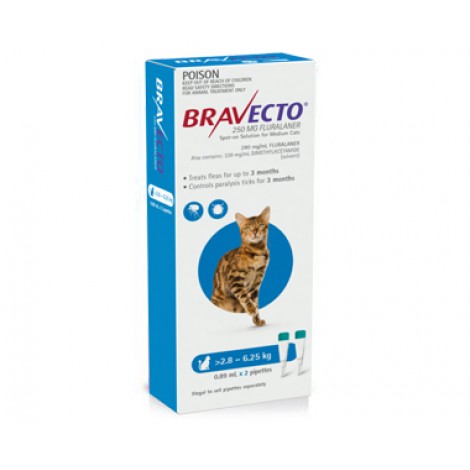 All pet medications offered for sale are classed as OTC (Over the Counter Products) on this site, dispensed from an Australian jurisdiction.
NOT FOR SALE TO USA
Active Constituents: 250mg Fluralaner ( 280mg/mL Fluralaner, also contains 339mg/mL Dimethylacetamide Solvent)
Expiry – October 2024
Bravecto Blue for Medium Cats 2.8-6.25kg (6.16-13.75lb) Spot On – 2 x 0.89mL Pipette ( 6 Months Protection )
( 1 x Pipette for up to 3 months protection from fleas and paralysis ticks )
Bravecto for Cats has undergone a rigorous regulatory approval processes and are sold with confidence in over 70 countries and are determined to be safe when used according to the label.
While fleas may be annoying for you, they can be a nightmare for your cat. Bravecto works fasts and 1 Pipette continues to protect for up to 3 months. With one application at the start of each season it's easy to keep your cat purring happily all year round.
Bravecto Spot-on for Cats kills existing paralysis tick infestations within 48 hours, and remains effective for 3 months. With long-lasting protection from a single dose, your cat is free to explore and enjoy life without the threat of those deadly little parasites.
The TWIST´N´USE tube makes Bravecto easy and convenient to apply, making it a great alternative for trickier cats who magically make pills reappear outside of their mouth, even though you'd swear you saw them swallow.
Safety: Bravecto can be used on kittens from 11 weeks of age, weighing at least 1.2 kg (2.64lb) Enjoy peace of mind knowing that once your kitten is old enough to enjoy an active outdoor lifestyle, they'll be protected from the risks of fleas and paralysis ticks.
Buying from the USA? We require an RX before dispatch
Bravecto Spot On for Cats Blue Medium