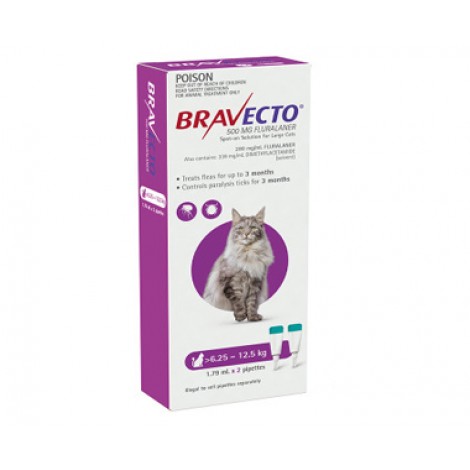 Active Constituents: 500mg Fluralaner
Bravecto Purple for Large Cats 13.75-27.5lbs (6.25-12.5kgs)
Expiry: June 2025
Treats:
Fleas for 3 months.
Paralsys ticks for 3 months.
Treats and controls ear mites.
Safe to use on kittens from 11 weeks of age, weighing at least 2.64lbs (1.2kgs).
2 vials.
Dosage: Bravecto should be administered every three months.
All pet medications offered for sale are classed as OTC (Over the Counter Products) on this site, dispensed from an Australian jurisdiction.
NOT FOR SALE TO USA
Buying from the USA? We require an RX before dispatch
Bravecto Spot On for Large Cats Purple