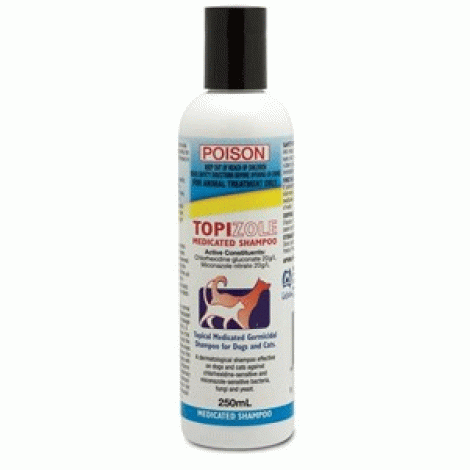 Active Constituents: Chlorhexidine gluconate 20g/L, Miconazole nitrate 20g/L.
Indications: For use on dogs and cats as an aid in treating non specific dermatological conditions
A veterinary approved medicated germicidal shampoo.
Removes potential skin allergens.
Effective shampoo base with multifunctional surfactants and conditioners.
Cleans and conditions coats
Perfume and colour free.
Directions For Use
For effective use with skin conditions that may benefit from the elimination or reduction of bacteria, fungi (ringworm), and yeasts (malassezia), that are responsive to chlorhexidine gluconate and miconazole nitrate.
As a general anti bacterial, anti fungal topical shampoo treatment.
To clean and condition coats.
Not recommended for use in species other than dogs and cats
Dosage and Administration
Thoroughly wet the pet all over
Apply approximately 20ml of shampoo along the backline and several places on the coat.
As a guide: 50ml will treat a 30kg, medium length coated dog, 7– 10ml will treat an adult cat
Massage into a good lather over the entire coat – including around the lips, under the tail, and between the toes - use a sponge to assist lathering and penetration of the coat
Leave on for 10 minutes.
Rinse off with clean water and dry thoroughly.
Brush the coat as usual
Repeat twice weekly until symptoms resolve, then use weekly, or as directed by your veterinarian
Registered with the APVMA 69088/59938
Topizole Medicated Shampoo 250mL