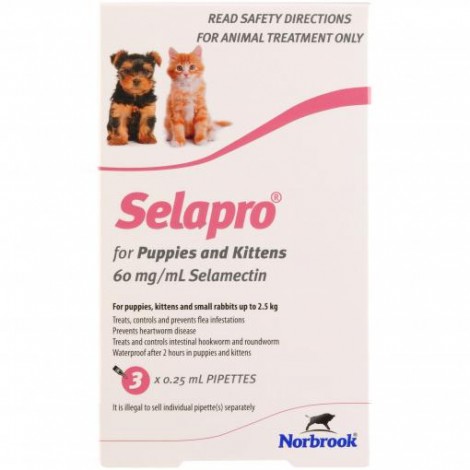 Active Constituents: 60mg/mL Selamectin
Expiry: 3 Pack January 2024, 6 Pack and 12 Packs January 2024.
For puppies & kittens 0-2.5kg (0-5-5lbs)
Easy to administer spot on vial. Treats, controls and prevents fleas infestations
Prevents heartworm disease
Treats and controls intestinal hookworm and roundworm
Waterproof after 2 hours
Monthly spot-on for: Fleas, Heartworm, Round & Hookworm, Ear Mites
Treats three living stages of the flea lifecycle. Can be used from 6 weeks of age in puppies and kittens. Safe for breeding and lactating dogs and cats.
SELAPRO may be safely applied to heartworm infected animals, however, it is recommended, in accordance with good veterinary practice, that all animals over 6 months of age be tested for existing heartworm infections before beginning medication with SELAPRO.
https://youtu.be/NIO5UgvYrCI
Selapro for Puppies & Kittens