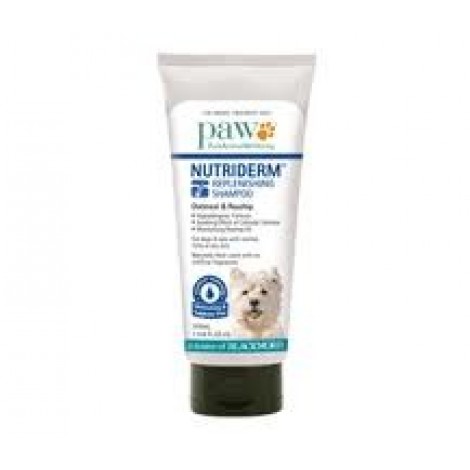 pH balanced and veterinary recommended for pets itchy, dry and normal skin. PAW NutriDerm Replenishing Shampoo provides advanced pawDerm technology including:
Hypoallergenic, sulphate free and soap free cleansers: for an effective, gentle clean without stripping natural oils from the skin.
Colloidal oatmeal: for immediate soothing effect.
Key moisturising nutrients: including rosehip oil and vitamin B5 to optimise skin hydration and maintain the skin barrier.
No artificial fragrances: for a natural fresh scent.
For optimal performance NutriDerm Replenishing Shampoo should be used in conjunction with the NutriDerm Replenishing Conditioner.
In a healthy skin, key nutrients such as ceramides and essential fatty acids that are naturally present in the outer layer of an animal's skin, provide the building blocks that help to keep their skin hydrated and healthy.
In some dogs and cats, particularly those with dry or itchy skin, these nutrients can be depleted. There are many factors that can cause this including;
Harsh chemicals and irritants found in some shampoos and conditioners
Environment (wind, humidity and sun light)
Diet
Injury or physical trauma
Genetic disposition
Without these key nutrients, the skin's barrier can be broken down, which in turn affects its ability to protect against allergens and irritants in the environment, drying the skin out further and making your cat or dog itchy and uncomfortable.
The NutriDerm Replenishing Range, including the NutriDerm Replenishing Shampoo is an innovative way to nourish and moisturise the skin to maintain skin health.
Specifications
For
Dogs
Active Constituents
Hypoallergenic, sulphate free and soap free cleansers moisturising nutrients Rosehip oil and vitamin B5
Application
Topical
PAW Nutriderm Shampoo 200ml