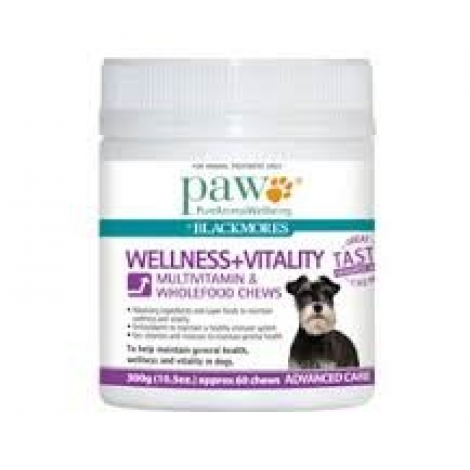 PAW Wellness & Vitality Chews 300gm ( 10.2 oz )
For all dogs to maintain general health, vitality and wellbeing. For dogs who are not their usual self and lack the usual energy and vitality.
or that may be deficient in key vitamins.
Every pet owner wants to ensure that their pet is happy and healthy. Supporting their nutrition is an important part of this.
Features & Benefits of PAW Wellness & Vitality Chews:
Highly palatable, low fat 5g kangaroo chews. Alkalising ingredients and super foods including Spirulina, Organic Kale, to maintain wellness and vitality. Antioxidants like Blueberries to maintain a healthy immune system. Vitamins and minerals to maintain everyday health.
PAW Wellness & Vitality Chews are easy to give to a dog (beneficial treat).

300g tub (approx 60 x 5g chews)
Daily Dosage: 0-4kg (0-8.8lb) - 1/2 chew, 5-14kg (11-31lb) - 1 chew, 15-29kg (33-64lb) - 2 chews, 30kg + (66lb +) - 3 chews
PAW Wellness & Vitality 300gm