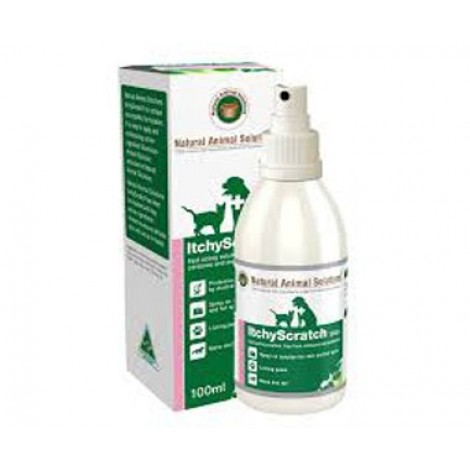 Contains: Aluminium acetate solution*, aloe vera, golden seal, boric acid, tea tree oil 2%
Containing 100% natural ingredients whilst being cortisone and anti-biotic free. This unique formulation has been rated 5 out of 5 from consumer reviews and is safe for cats and dogs.Can be applied on paws and affected areas of the skin.
A unique formulation like no other in the current market
Strong drying solution, antifungal and antibacterial. Effective on paws and hot spots. Licking Paws. Mane and tail itch.
Safe for cats and dogs
Free from cortisone and antibiotics
Natural Animal Solutions® ItchyScratch combines the finest plant extracts and natural ingredients with Aluminium Acetate Solution to offer a product like no other in the current market. This clinical product contains active ingredients which have been carefully selected to provide a fast acting formula without the side effects that other products may bring. Natural Animal Solutions® ItchyScratch has a practical spray applicator allowing easy administration to the hardest areas. ItchyScratch is the perfect complimentary product to the Natural Animal Solutions® Skin Pack for fast and effective solution.
Aluminium acetate solution is a formula unique to only Natural Animal Solutions
Directions
Spray on affected area directly on the skin. Use up to 4 times daily. For sensitive animals dilute 1:1 in water.
Natural Animal Solutions Itchy Scratch 100mL