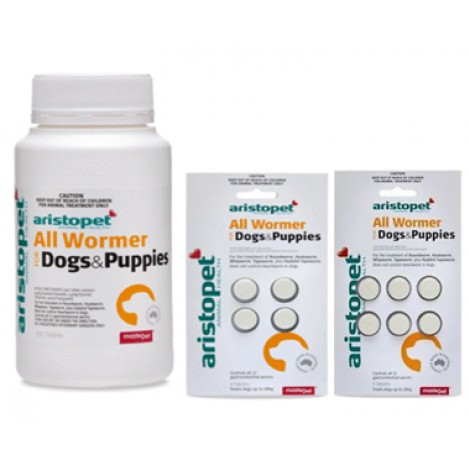 Active Constituents: 50mg Praziquantel, 143mg Pyrantel Embonate and 542mg Oxantel Embonate.
One tablet treats a dog up to 22lbs (10kgs)
An all-wormer tablet that controls all 11 gastrointestinal worms in dogs and puppies.
To ensure effective worm control, treat all dogs and cats in the household at the same time.
Animals infested with worms are a continual source of reinfestation to other animals, and may be dangerous to your family.
For the treatment of:
Roundworm.
Hookworm.
Whipworm.
Tapeworm.
Hydatid tapeworm.
Dosage: Give one tablet per 22lbs (10kgs) once every three months.
Specifications
For
Dogs 10kg (22lbs)
Active Constituents
50mg Praziquantel, 143mg Pyrantel Embonate and 542mg Oxantel Embonate
Application
Oral
Aristopet Allwormer 22lbs (10kgs)