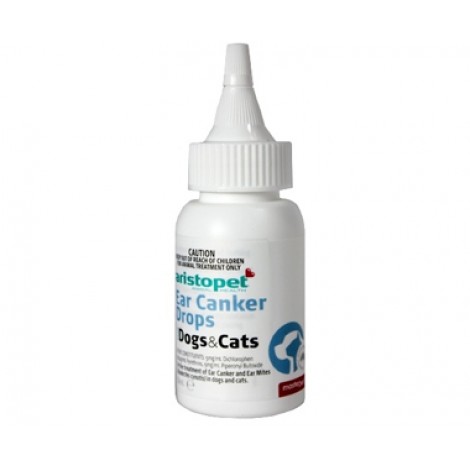 Active Constituents: 5mg/ml dichlorophen, 500ug/ml pyrethrins, 5mg/ml piperonyl butoxide

For dogs and cats, this soothing antiseptic ointment for the treatment of cuts, abrasions, infections.
Gentle, non-stinging formula for treatment and control of ear canker and ear mites.
Ear canker is an inflamed scabby condition deep inside the ear.
It is caused by an infestation of the ear canal by mites.
For itchy and smelly ears.
Gentle, safe and effective.
Will reduce wax and foreign matter build up.
Will reduce odors and risk of infection.
Use with Aristopet Ear Cleaner.
Dosage: Instill 4-8 drops into both ear canals twice daily for at least 14 days.

If condition persists, consult a veterinarian.
Specifications
For
Dogs/Cats
Active Constituents
5mg/ml dichlorophen, 500ug/ml pyrethrins, 5mg/ml piperonyl butoxide
Application
Drops
Aristopet Ear Canker Drops 1.7 fl oz (50ml)