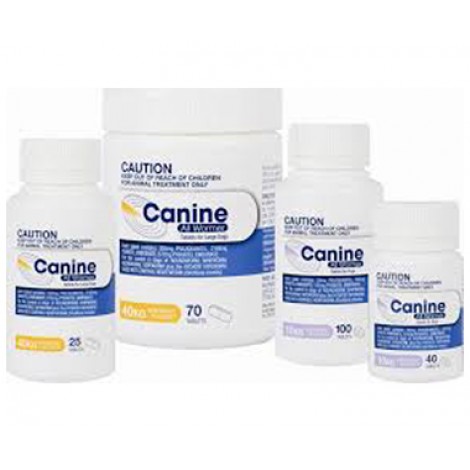 Active Constituents: 200mg Praziquantel, 572mg Pyrantel Embonate and 2168mg Oxantel Embonate.
Expiry: 25 pack May 2024, 70 pack June 2024
Canine allwormer offers total protection from all 11 intestinal worms, (including roundworm, whipworm, hookworm, tapeworm and hydatid tapeworm).
Safe for puppies from 2 weeks of age, as well as pregnant & lactating bitches, working dogs, greyhounds and senior dogs.
Scored in quarters.
Canine allwormer can be safely combined with flea and tick treatments.
Does not prevent heartworm.
Dosage: 1 tablets treats up to 88lbs (40kgs) bodyweight. Treat once every three months.
Specifications
For
Dogs 40kg (88lbs)
Active Constituents
200mg Praziquantel, 572mg Pyrantel Embonate and 2168mg Oxantel Embonate
Application
Oral
Canine Allwormer 88lbs (40kgs)