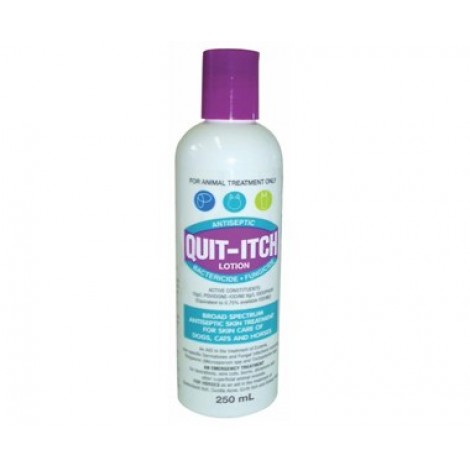 Active Constituents: 15g/L Povidone-Iodine, 6g/L Iodophor (Equivalent to 0.75% available Iodine)
A broad spectrum antiseptic skin treatment for skin care of dogs, cats and horses.
QUIT-ITCH is ideal as an emergency treatment for lacerations, wire cuts, burns, abrasions and other superficial animal wounds.
It may also be used on horses as an aid in the treatment of Queensland itch, saddle acne, girth itch and greasy heel.
Undiluted, QUIT-ITCH is the most efficient treatment for skin diseases and wounds.
Diluted as directed and used as an allover shampoo, QUIT-ITCH thoroughly cleanses and degerms thus preventing the spread of contagious skin diseases.
QUIT-ITCH ensures a lustrous coat for show dogs, cats, horses - in fact all animals.
Specifications
For
Dogs/Horses
Active Constituents
15g/L Povidone-Iodine, 6g/L Iodophor (Equivalent to 0.75% available Iodine)
Application
Topical
Quit Itch 250ml (8.5floz)