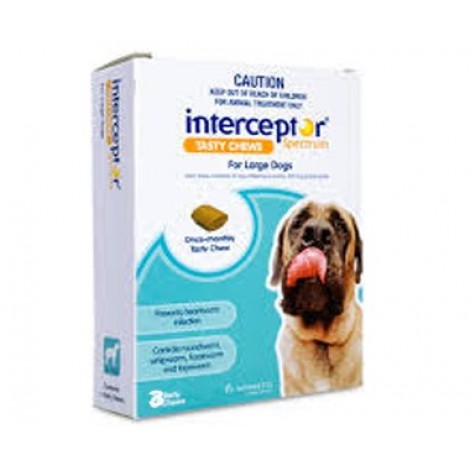 Active Constituents: Each Chew Contains: 23mg Milbemycin Oxime, 228 Praziquantal.
Treats dogs 48-99lbs (22-45kgs)
Expiry: 6 & 12 Pack August 2022
Interceptor Spectrum is a monthly tasty chew for the prevention and treatment of heartworm and gastrointestinal worms in dogs. This broad-spectrum oral preventive destroys various intestinal worms including tapeworm, whipworm, roundworm and hookworm.The flavoured chew is safe for puppies 2 weeks of age and above, and works well in all sizes and breeds of dogs.
Great new chew your dogs will LOVE!
Specifications
For
Dogs 22-45kgs (48-99lbs)
Active Constituents
23mg Milbemycin Oxime, 228 Praziquantal
Application
Oral
Safety Information
Dogs should be tested "Adult Heartworm Clear" before giving this medication.
Interceptor Spectrum Large Blue