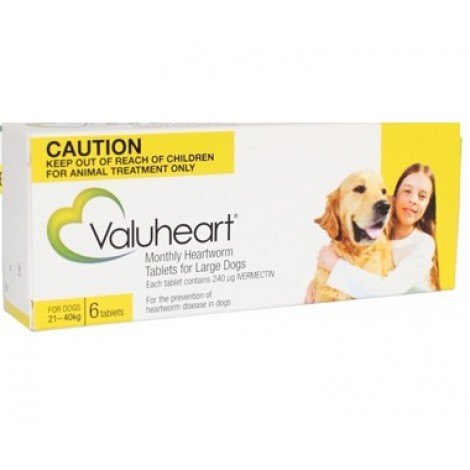 Active Constituents- 240ug Ivermectin
Treats Dogs 44-88lbs (21-40kgs)
Expiry: February 2024
Valuheart is an awesome monthly heartworm preventative for dogs
Attacks heartworm larvae as well as adult heartworms.
Your dog is your most loyal friend, and a constant friendly face. Your dog deserves the best protection that you can provide. Safeguard his most vital organ with Valuheart Gold.
Using Valuheart is simple. Give your dog the tablet, making sure they swallow it, and you're done. Whether ingested broken or whole, the tablet will be absorbed in the stomach releasing the full dose of the active ingredient.
Give the required tablet orally, based on the weight of the dog, at one month intervals. The tablet may be wrapped in food to encourage consumption. The dog should be observed closely for several minutes following administration to ensure the entire dose has been adequately consumed. If it is suspected that any of the dose has been lost, re-dosing is safe and recommended to ensure full protection.
Please consult a veterinarian before commencing any form of heartworm prevention.
Consult your veterinarian if any adverse reactions occur.
Do not use on puppies under 6 weeks of age.

When used as directed, Valuheart has a wide margin of safety for dogs of all breeds, including stud dogs, breeding bitches and puppies 6 weeks of age and older.
Valuheart is the generic equivalent of Heartgard at half the cost!
Valuheart can be safely combined with flea and tick treatments.
Specifications
For
Dogs 21-40kg (44-88lbs)
Active Constituents
240ug Ivermectin
Application
Oral