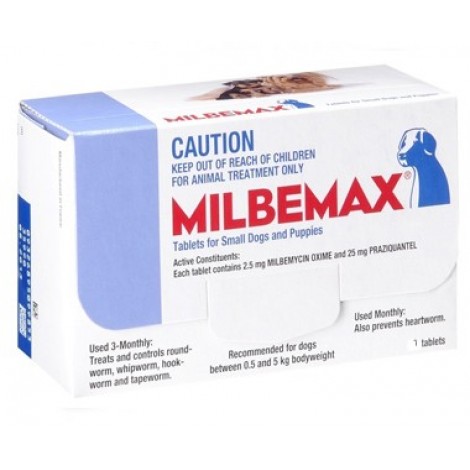 Active Constituents: 2.5mg Milbemycin Oxime and 25mg Praziquantel
Milbemax effectively protects against roundworm, hookworm, whipworm, tapeworm and heartworm.
Coated tablet makes dosing easy.
Safe for puppies from 2 weeks and over 1.1lbs (500gms).
Dosage:
Heartworm, dose once per month.
Intestinal worms, dose once every three months.
Give half a tablet for dogs weighing between 1.1-2.2lbs (500gms-1kg).
Give 1 tablet for dogs weighing between 2.2-11lbs (1-5kgs).
Specifications
For
Dogs and Puppies 0.5 - 5kg
Active Constituents
2.5mg Milbemycin oxime and 25mg Praziquantel
Safety Information
Dogs should be tested "Adult Heartworm Clear" before giving this medication.
Milbemax Small Dog up to 11lbs (5kgs)