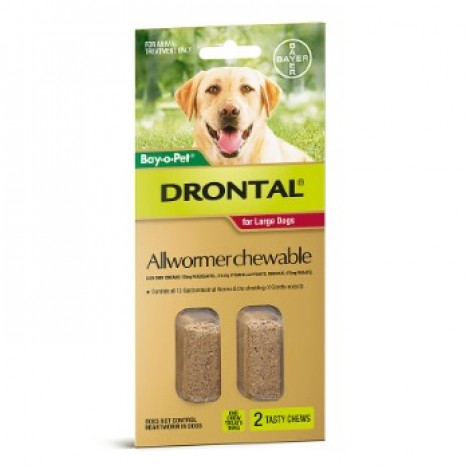 Active Constituents: 175mg Praziquantel, 174.4mg Pyrantel as pyrantel embonate, 875mg Febantel.
For dogs up 77lbs (35kgs)
Effective against the major gastrointestinal worms affecting dogs like roundworm, hookworm, whipworm and tapeworm.
Gets Giardia under control
Drontal is the only Allwormer registered to control Giardia, which causes diarrhoea in dogs.
Only your veterinarian can diagnose and provide the appropriate advice for the treatment of Giardia.
Drontal Allwormer Chews or easy to administer tabs.
Made with real liver - the taste dogs love.
Drontal is a registered trademark of Vetoquinol.
Specifications
For
Dogs 35kg (77lbs)
Active Constituents
175mg Praziquantel, 174.4mg Pyrantel as pyrantel embonate, 875mg Febantel
Application
Oral
Drontal Allwormer Chewable 77lbs (35ks) - 2 Chews