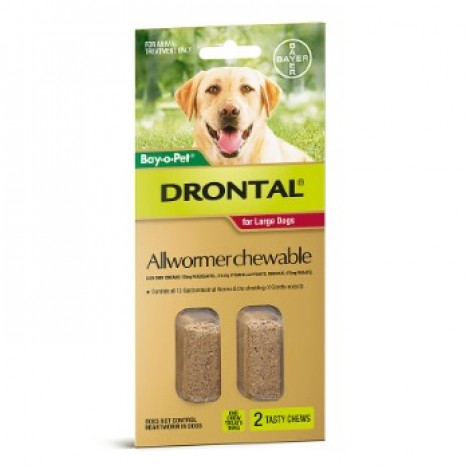 Active Constituents: 175mg Praziquantel, 174.4mg Pyrantel as pyrantel embonate, 875mg Febantel
Contains 2 chewables each chew treats 35kg (77lbs)
Your pet can give you more than love. It can give you worms.

Why choose Drontal Allwormer?

• Bye-bye intestinal worms
Effective against the major gastrointestinal worms affecting dogs like roundworm, hookworm, whipworm and tapeworm.

• Gets Giardia under control
Drontal is the only Allwormer registered to control Giardia, which causes diarrhoea in dogs. Only your veterinarian can diagnose and provide the appropriate advice for the treatment of Giardia.

• Dogs love Drontal Chewables
It couldn't be easier to get into a regular worming routine with delicious Drontal Allwormer Chews or easy to administer tabs. Made with real liver - the taste dogs love. Drontal Allwormer Chewables are so good they even come with a unique guarantee: your dog will love the chew, or Bayer will replace it with a free Drontal tablet.

• Safe for puppies
Drontal Allwormer Suspension is easy to measure and treat your new puppy from as soon as 2 weeks of age. See directions for use for recommended treatment regimens for intestinal worms in puppies.

• Trusted by Australian Vets
• This Australian innovation has unique ingredients proven through research to be more effective than any other intestinal worming treatment on the market.

Drontal Allwormer is available in Chewables and tablets for dogs and a suspension for puppies.
Specifications
For
Dogs 35kg (77lbs)
Active Constituents
175mg Praziquantel, 174.4mg Pyrantel as pyrantel embonate, 875mg Febantel
Application
Oral
Drontal Allwormer Chewable 35kg (77lbs) - 2 chews