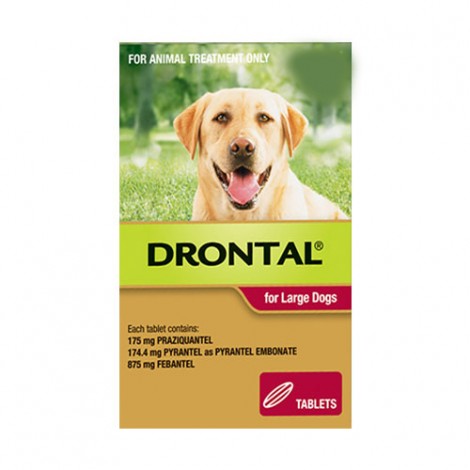 Active Constituents: 175mg praziquantel, 504mg Pyrantel embonate and 875mg Febantel.
Drontal is recommended for the control of all gastrointestinal worms in dogs including roundworm, hookworm, whipworm and tapeworm (including hydatid tapeworm).
Expiry: October 2025
Drontal is a tablet formulation of three distinctly different proven drugs offering the broadest spectrum of activity.
The febantel/pyrantel combination is active against roundworms and hookworms and is highly effective against whipworms.
Praziquantel provides a superb level of efficiency against all the major tapeworms.
Controls all gastrointestinal worms.
Single treatment.
Drontal offers gentle, safe and effective control of all worms.
It may be given safely to all dogs including old animals, young pups, working dogs and greyhounds.
Compatibility Drontal may be combined with other treatments, for example heartworm prevention, flea and tick treatment, vaccination.
Convenience, eliminates the need for two or more products.
Accuracy of dosage guaranteed and wastage minimised with 6.6lbs, 22lbs and 77lbs, (3kgs,10kgs and 35kgs) dosage tablets.
Drontal is a registered trademark of Vetoquinol.
Specifications
For
Dogs 35kg (77lbs)
Active Constituents
175mg praziquantel,. 504mg Pyrantel embonate and 875mg Febantel
Application
Oral
Drontal for Large Dogs 77lbs (35kgs)