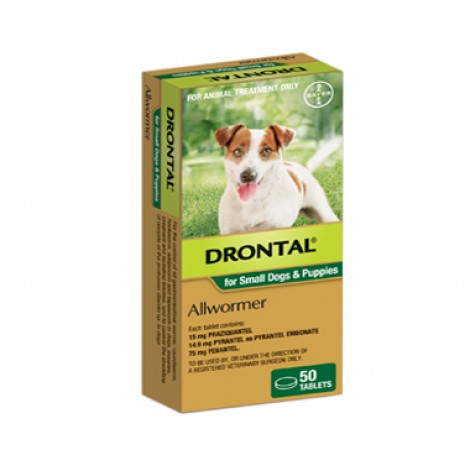 Active Constituents: Praziquantel 15mg, Pyrantel 14.9mg as embonate, 75mg Febantel
Expiry: July 2023
Application:
Drontal tablets treat your dog for all major species of gastrointestinal worms including roundworm, hookworm, whipworm and tapeworm. They also controls shedding of Giardiaoocysts.
Treats and controls all major intestinal worms including roundworm, whipworm and hookworm
Controls tapeworms, including the hydatid tapeworm
Controls shedding of Giardia oocysts
Dosage:
Follow the retreatment recommendation information below:
Puppie: Treat at 2, 4, 8, 12 weeks; then 4, 5, 6 months of age.
Adults: (over 6 mths) every 3 months.
Every 6 weeks in Hydatid infested locations.
Pregnant or lactating bitches- prior to mating, 10 days before whelping and 2 and 4 weeks after whelping.
Compatibility:
Drontal may be combined with other treatments, for example, heartworm prevention, flea or tick treatment.
Does not control heartworm.


Specifications
For
Dogs 3kg (6.6lbs)
Active Constituents
Praziquantel 15mg, Pyrantel 14.9mg as embonate, 75mg Febantel
Application
Oral
Drontal Sml Dogs & Puppies 3 kg (6.6lb) Tablets