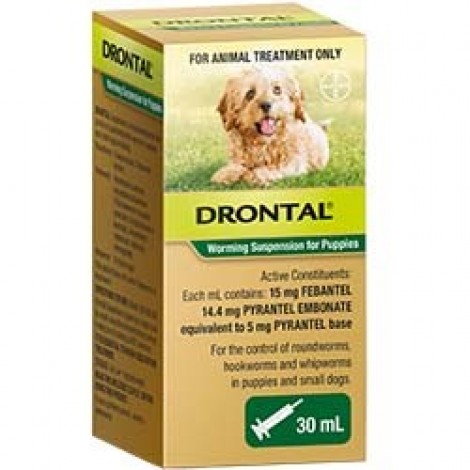 Active constituents: Each mL contains:15 mg FEBANTEL, 14.4 mg PYRANTEL EMBONATE
Puppy worming is so important from 2 weeks of age for all breeds. This liquid wormer is for puppies from two weeks of age for the control of roundworms, hookworms and whipworms in puppies and small dogs .This product does not control tapeworms or heartworm.
Application:
Single dose by mouth
Easy to use dosing syringe
Safety – Drontal Suspension offers gentle, effective control of all gastrointestinal worms
It may be given safely to all young pups and small dogs
Compatability: Drontal Suspension may be combined with other treatments, for example heartworm prevention, flea and tick treatment. Accuracy of dosage guaranteed and wastage minimised with easy to use syringe.
Specifications
For
Puppies
Active Constituents
15 mg Febantel 14.4 mg Pyrantel Embonate
Application
Oral
Drontal Puppy Liquid Suspension