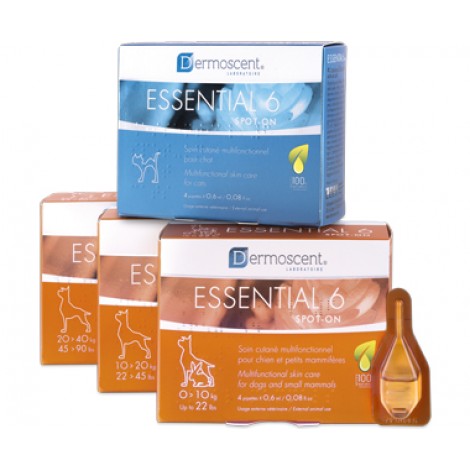 Essential 6 has a unique combination of Omega 6 & Omega 3 essential fatty acids and essential oils that increase skin hydration and maintain coat and skin health.
Making it ideal for dogs and cats with dry skin, dandruff, oily coats or those who have a constant bad odour.
International trials have clinically proven that Essential 6 can:
Improve coat shine
Re-balance an oily coat
Reduce dandruff
Reduce unpleasant odours
Reduce non seasonal hair loss
Essential 6 works by replenishing skin hydration levels in the epidermis layer.
Directions for use: Apply one pipette directly to the skin once a week for eight weeks.
For maintenance, apply one pipette directly to the skin every two weeks.
Essential 6 should not be applied two days before or after washing.
Each pack contains 4 pippettes
Specifications
Package Information
4 x Pippettes per pack
For
Dogs and Cats
Active Constituents
Unique blend of essential fatty acids & essential oils
Application
Choose an area where licking cannot occur e.g. on the back of the neck.
Essential 6 for Dogs and Cats 4 Pack