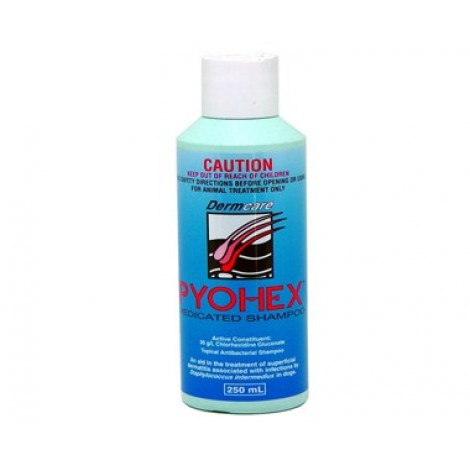 Active Constituents: 3% Chlorhexidine Gluconate
For primary or secondary Pyoderma caused by bacteria
As an adjunct to treatment for demodectic mange and other deep pyodermas
As a preventative for recurrent pyodermas
German Shephard Furunculosi
Does not irritate or dry like a Chlorhexidine scrub
Actions:
The Chlorhexidine in PYOHEX works by binding to hair and penetrating the follicle via a wicking action down the hair shaft, to eliminate bacteria in situ. Chlorhexidine kills bacteria by disrupting the cell membrane and precipitating the cell contents.
PYOHEX binds strongly to the skin and hair, resulting in a 4 day residual action. As Chlorhexidine is poorly absorbed through the skin, PYOHEX is completely safe.
PYOHEX contains an advanced surfactant base that removes abnormal lipids that occur due to bacterial lipases. PYOHEX does not dry or strip the coat of essential lipids needed to prevent transepidermal water loss, a process that promotes infection.
PYOHEX is pH neutral, specifically designed for canine skin.

Directions of use:
First wet the coat, then sponge PYOHEX onto the animal's coat and allow to stand for 10 minutes then rinse thoroughly. This is the minimum contact time to ensure antimicrobial activity. Bath twice weekly until symptoms abate and then weekly or as directed by your veterinarian.
Pyohex Medicated Shampoo 250mL (8.5 fl oz)