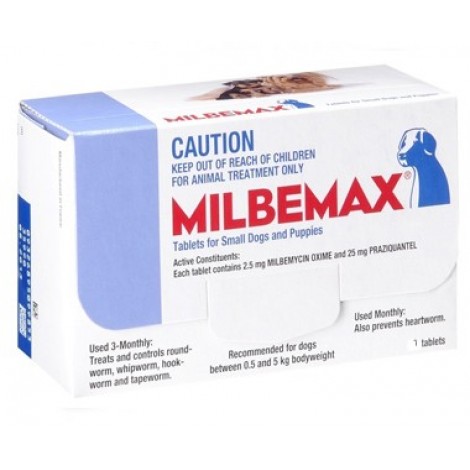 Active Constituents: 2.5mg Milbemycin oxime and 25mg Praziquantel
For Smal Dogs and Puppies 0.5 - 5kg - Single Tablet Pack
Treatment of roundworms, hookworm, tapeworm when used every three months
Prevention of heartworm when used monthly
Directions for use
Can be used in puppies from a minimum age of 2 weeks
Use the appropriate dose size and tablet number for the dogs body weight
Adult dogs and older puppies can then be treated every 3 months for treatment of intestinal worms and once monthly for prevention of heartworm
Can be used in breeding dogs
For the treatment of internal parasites, roundworm, hookworm and tapeworm, in dogs.
Milbemax for dogs is a more relaxing way to give broad spectrum protection against intestinal parasites. Tablet sizes are very small and fewer tablets are needed, making worming less stressful for you and your pet. Now, with a small amount of effort you can make a big impact on the health of your pet and family's protection.
Dosage and Administration
A combination of tablets should be given, consistent with the recommended minimum dose

Treatment:
Once every 2 weeks until 12 weeks of age
Then once every three months for protection against intestinal worms;
Or once a month for added heartworm prevention, preferably on the same date.

Mature dogs should be tested for heartworm before receiving Milbemax for dogs. If a dose is missed, treat immediately and resume monthly dosing.

This formulation is not suitable for use in cats.
Specifications
For
Dogs and Puppies 0.5 - 5kg
Active Constituents
2.5mg Milbemycin oxime and 25mg Praziquantel
Safety Information
Dogs should be tested "Adult Heartworm Clear" before giving this medication.
Milbemax Small Dog up to 5kg