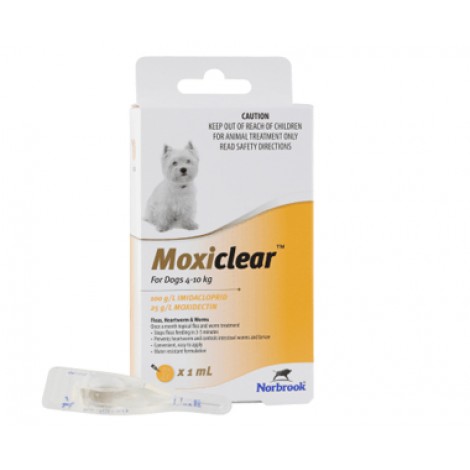 Active Constituents: Imidacloprid 100g/L, Moxidection 25g/L
For dogs weighing between 8.8-22lbs (4-10kgs)
Expiry Date: August 2024
Moxiclear is an affordable, monthly spot-on for the treatment and prevention of fleas, heartworm, sarcoptes mites, ear mites and intestinal worms.
Developed as an easy to use spot-on.
Imidacloprid acts topically to kill fleas within an hour, whilst the Moxidectin acts systemically to treat intestinal worms, ear mites, mange mites and to prevent heartworm.
Moxiclear has been shown to kill adult and larval fleas within 20 minutes of contact.
For the prevention of heartworm, treatment with Moxiclear should start one month before the first exposure to mosquitoes.
Moxiclear treats and controls the major gastrointestinal nematodes of dogs and cats but does not control tapeworms.
Moxiclear has shown to eliminate 100% of sarcoptic mites (Sarcoptes scabiei) after a single dose.
A second dose of Moxiclear a month later will result in continued improvement of the clinical signs associated with sarcoptic mange.
For the treatment of ear mites (Otodectes cynotis), Moxiclear is highly efficacious as a single dose.
Moxiclear for Dogs Yellow 6 Vials