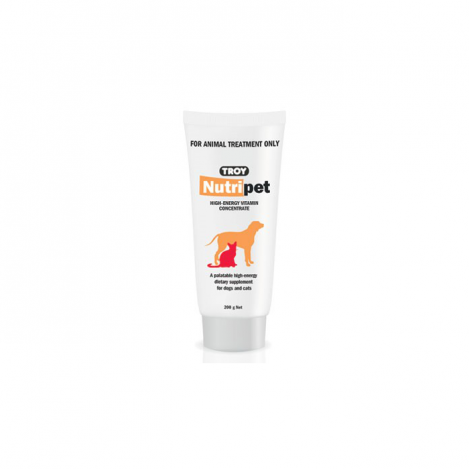 High Energy Vitamin Concentrate
A palatable high calorie dietary supplement for use in dogs and cats lacking adequate nutrition over a prolonged period of time.
Contains: Vitamins A, D, E, B1, B2, B6, B12, Nicotinamide, Calcium Pantothenate, Folic Acid, Iron, Manganese, Magnesium and Iodine in a palatable base consisting of fats, proteins and carbohydrates, providing approximately 1500 kilojoules of metabolizable energy per 100g.
Indications: A highly palatable source of calorie and vitamin supplementation and is recommended for inclusion in the diets of dogs and cats where levels may be low.
Nutrigel can be used to overcome the animal's reluctance to the intake of tablets by fully covering the tablet with Nutrigel.
Dosage and Administration: It is highly palatable and is usually accepted eagerly.
To acquaint your pet with the flavour, place a small amount in the mouth.
When used during convalescence and to stimulate appetite, give 10g (approx. 2 x 10cm strips) daily per 5kg(11lbs) bodyweight.
When used as the main source of nutrition, give 15g (approx. 3 x 10cm strips) daily per 5kg (11lbs) bodyweight, or as required.
200gms (7 ounce)
Specifications
For
Dogs/Cats
Active Constituents
Vitamins A, D, E, B1, B2, B6, B12, Nicotinamide, Calcium Pantothenate, Folic Acid, Iron, Manganese, Magnesium and Iodine in a palatable base consisting of fats, proteins and carbohydrates, providing approximately 1500 kilojoules of metabolizable energy per 100g
Application
Oral