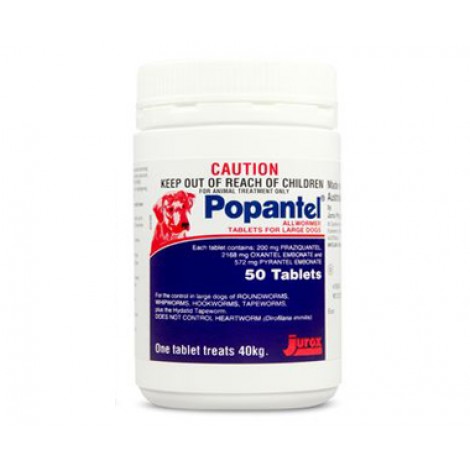 Active Constituents: 200mg Praziquantel, 2168mg Oxantel Embonate 572mg Pyrantel Embonate.
Dose: 1 tablet treats 40kg (88lbs) Single Tablet
Expiry – June 2021
For the control of roundworm, hookworm, whipworm and tapeworm and hydatid tapeworm in dogs.
Your dog will accept Popantel more easily.
It is easier on their taste buds, easier to swallow and easier to calculate the correct dose your dog requires.
Roundworms and hookworms: Treat at 2, 4, 8 and 12 weeks of age and then every 3 months.
Whipworms: Treat every 6 to 8 weeks after 3 months of age.
Pregnant and lactating bitches: Treat at mating, 10 days before whelping and then every 3 months
Hydatid tapeworms: Dogs in hydatid areas should be treated every 6 weeks. Dogs should not be fed offal from any species.
Other tapeworms: Treat every 3 months and treat your dog regularly to control fleas.
Specifications
Package Information
200mg Praziquantel, 2168mg Oxantel embonate, 572mg Pyrantel Embonate
For
Dogs 40kg (88lbs)
Active Constituents
200mg Praziquantel 2168mg Oxantel Embonate 572mg Pyrantel
Popantel Allwormer (88lb) 40kg