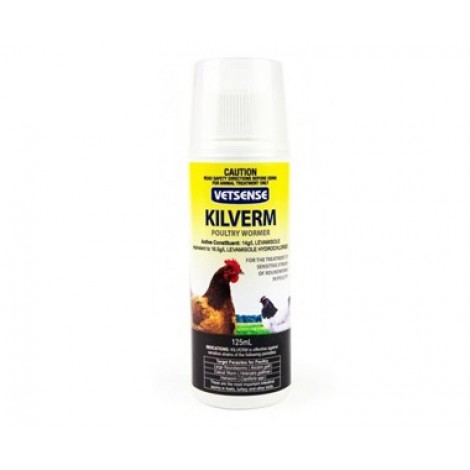 Active Constituents: 14 g/L LEVAMISOLE (equivalent to 16.5 g/L LEVAMISOLE HYDROCHLORIDE)
Vetsense Kilverm pig and poultry wormer.
Target parasites for poultry.
Large Roundworm (Ascaridia galli), Caecal Worm (Heterakis gallinae), Hairworm (Capillaria spp.).
Mix with clean drinking water.
For maximum efficiency it must be consumed in the shortest time possible.
Withhold water from birds 2 hours before nightfall.
The required amount of medicated water is then made available so that the birds can start drinking it at daylight.
Replace with clean water after 8 hours or when medication is consumed.
Birds under continuous light should be treated by withholding water for 2 hours then giving medicated water as above.
Dosage:
Dilute .338floz (10mls) of Vetsense Kilverm in 6.7floz (200mls) of water for each 13.2lbs (6kgs) live weight.
Dilute 0.059floz (1.75ml of Vetsense Kilverm in 1.83floz (35mls) of water per 2.2lbs (1kgs) live weight.
Mix 1.35floz (40ml per 33floz (1 litre) water for 1 day.
Repeat 2 weeks later.
Contraindication: This product is contraindicated in extremely hot weather.
Specifications
Active Constituents
14 g/L LEVAMISOLE (equivalent to 16.5 g/L LEVAMISOLE HYDROCHLORIDE)
Safety Information
PIG MEAT: DO NOT USE less than 3 days before slaughter for human consumption. POULTRY MEAT: DO NOT USE less than 7 days before slaughter for human consumption. POULTRY EGGS: NIL
Kilverm Poultry Wormer 4.22floz (125mls)