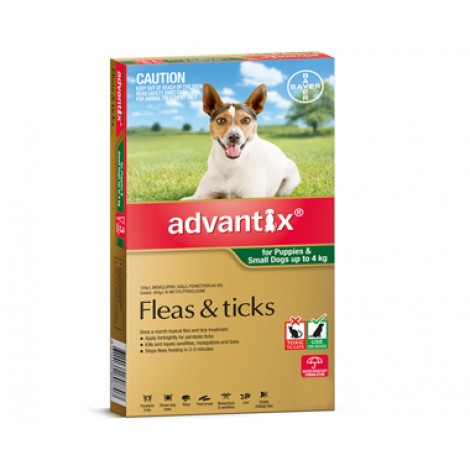 Active Constituents: 100 g/L Imidacloprid, 500 g/L Permethrin
For dogs up to 8.8lbs (4kgs)
Why choose Advantix?
Advantix repels and kills paralysis ticks.
A single adult paralysis tick can paralyse and even kill your dog.
For paralysis tick control Advantix must be applied every 2 weeks.
Repels and kills brown dog ticks and bush ticks.
Repels and kills mosquitoes and sandflies.
Stops fleas feeding within 3-5 minutes and kills fleas within 20 minutes of contact.
Apply to the back of your pets neck.

Not for use in Cats. Do not apply to cats or animals other than dogs. Do not permit cats to actively groom or have close physical contact with a recently treated dog. If applied to a cat or ingested by a cat this product may have serious harmful effects.
Specifications
For
Dogs upto 4kg (8.8lbs)
Active Constituents
100g/L Imidacloprid, 500 g/L Permethrin
Application
Topical
Advantix Sml Dogs & Pups (Green)