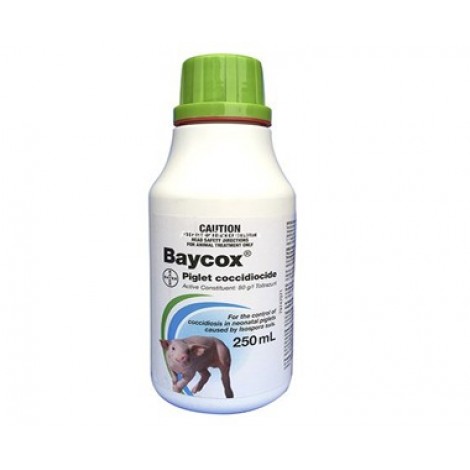 Active Constituents: Toltrazuril 50 g/L
Baycox Piglet and Cattle coccidiocide controls coccidiosis.
Coccidiosis iscaused by Isospora suis infection of young piglets and in cattle up to 9 months of age
Caused by Eimeria bovis or Eimeria zuemil.
Isospora suis infection is a major cause of diarrhoea, dehydration loss of appetite, poor growth and occasional mortality in piglets between birth and 3-4 weeks of age.
Baycox is effective in one dose because it attacks all stages of the parasite in the animal.
Toltrazuril, the active constituent of Baycox®, is active against all intracellular stages of coccidia.
Interferes with the multiplication process and the energy pathways of the parasite.
Baycox® Piglet and Cattle treats and prevents clinical disease while allowing immunity to develop against coccidia.
Before using this product obtain a veterinary diagnosis for the cause of the diarrhoea.
Clinical coccidiosis of piglets appears from 5-30 days of age.
Control of the disease is most effective when Baycox is given as a preventative before intestinal damage occurs and diarrhoea begins.
It is important to establish the correct cause of scouring in neonatal piglets, then treat all new litters at 3-6 days of age to control the disease.

Size: 8.5fl oz (250mls)
Specifications
For
Pigs
Active Constituents
Toltrazuril 50 g/L
Application
Water Soluble/Oral
Baycox Piglet and Cattle Coccidiocide 8.5fl oz (250mls)