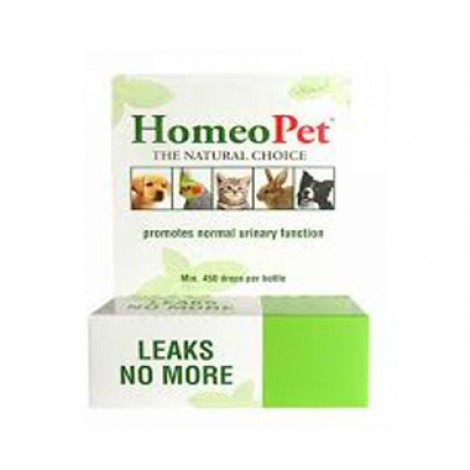 Leaks No More promotes normal urinary function
HomeoPet Leaks No More has been formulated by veterinarians specifically for cat and dog urinary incontinence. Incontinence may result from fear or excitement, frequent urination or, in older pets, after neutering or spaying, or females that have had litters.
Unlike other pet incontinence solutions, HomeoPet Leaks No More does not contain Phenylpropanolamine (PPA). In fact, quite the opposite, it contains 100% natural, plant-based ingredients. It is easily administered in a liquid form.
Ingredients and Benefits: Plantain (Plantago Major 6c & 30c) For dog incontinence or cat incontinence during sleep, typically slight leakage, Yellow Jasmine (Gelsemium Sempervirens 6c & 30c) For dog incontinence or cat incontinence especially related to fear, typically profuse clear watery flow. Spanish Fly (Cantharis 6c & 30c) For frequent urination in small amounts. Causticum (Causticum 6c & 30c) For cat incontinence or dog incontinence from excitement, also at start of sleep and associated with surgery. Alumina 6c & 30c (Oxide Of Aluminum) Old age incontinence
Urinary Incontinence in Pets
If your house trained dog is suddenly having urinary accidents, they may have dog incontinence, a common disorder in spayed females and older dogs. A visit to your veterinarian will distinguish cat or dog incontinence from inappropriate urination, which is a behavioural problem, and to rule out medical conditions, such as a bladder infection or kidney stones. Arthritis or injury to the back affecting nerves to the bladder can also cause cat or dog incontinence (refer HomeoPet Joint Plus in this case). Understanding your pet's condition can help you to find the best treatment available for your cat or dog.
Dog incontinence is typically seen in medium to large breed, female dogs that have been spayed, but it can occur in any dog or cat, male or female. After spaying or neutering, or as the pet gets older, hormone production decreases and the sphincter muscles that control the bladder are weakened. When the animal relaxes, urine leaks out.
HomeoPet's Leaks No More is a 100% natural solution. It a safe and effective urinary cat incontinence and dog incontinence solution, without the unwanted side effects.
Instructions For Use
Provide required dosage in water, on food or treat. Provide one dose 3 times per day, as needed. First sign of improvement is reduced amount of leakage. When an improvement is seen, decrease dosing to twice daily, then once daily
A maintenance dose may be needed long term – it is recommended to stop formula for 48 hours every 3 months, then resume dosing at required level
Discontinue use when symptoms subside
HomeoPet Leaks No More 15mL