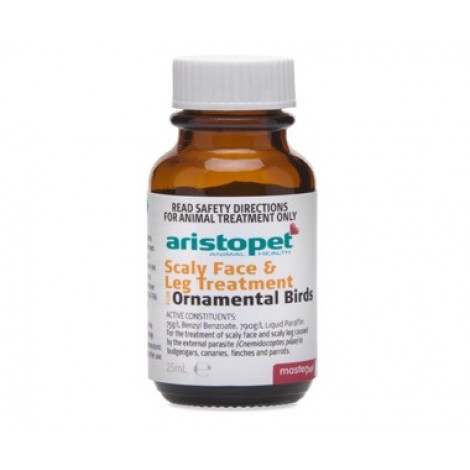 Active ingredients: Benzyl benzoate 75g/L- Liquid parrafin 790g/L
Easy to apply lotion for effective control of scaly face and leg in all caged birds. Scaly face and leg is caused by the external parasite, cnemidocoptes pilae, in budgies, canaries, finches, and parrots.
Directions for Use: Apply to affected area once a day for 3 to 4 days. Apply with a cotton bud or small brush. Prevent the bird from ingesting material by holding its head firmly during application. Repeat treatment 1 to 2 weeks later to avoid re-infestation.
Precautions: Use sparingly when applying to beak area. DO NOT apply to more than 20% of body surface in any one application. Wash hands after use.

Scaly Face & Leg Cure 25mL (0.85 fl oz)