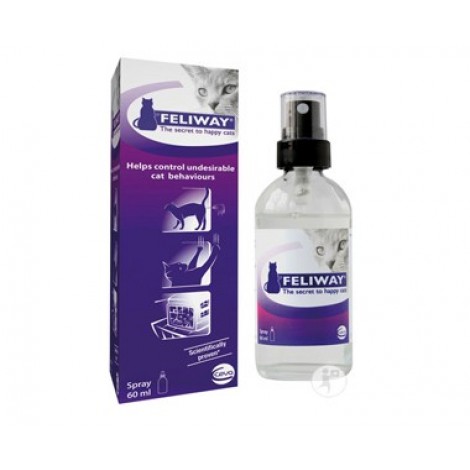 Feliway Spray is a cat or kitten deterrent which reproduces certain pacifying properties of cat facial pheromones.

The placing of facial pheromones is a behaviour which is well known to all cat owners.
When a cat feels safe in its environment, it rubs its head from the side of the chin to the base of the ear, against the furniture, the corners of walls or the bottom of curtains.
By doing this, the animal is depositing facial pheromones.
These marks convey a message of well-being and a feeling of security.
When there is a change in the cat's environment (such as visits to the vets, return from hospitalisation, moving house, new arrivals, rearrangement of furniture) or if the cat is scared, a state of disquiet or stress may develop.
This state can be expressed by changes in behaviour, such as urine marking, vertical scratching, loss of appetite or refusal to play and to interact.
In these situations, the Feliway Spray can be used to restore the natural balance.
Feliway is a safe solution of feline facial pheromone, which mimics the cat's natural pheromones, creating a state of well-being and calm.
Specifications
For
Cats
Active Constituents
Pheromones
Application
Topical