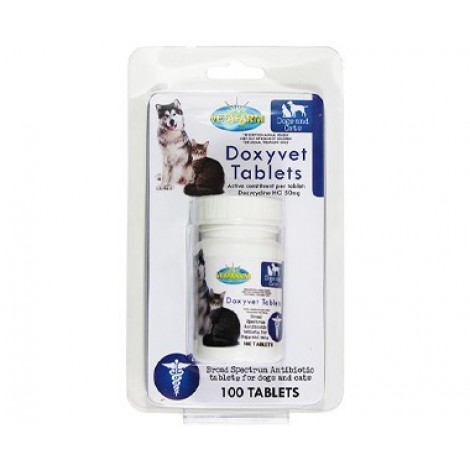 Active Constituent: Doxycycline Hydrochloride 50mg tablets.
Expiry: 20 Pack January 2025, 50 Pack July 2025, 100 Pack July 2025, 1,000 Pack July 2025
Doyxvet is used for the treatment of infections caused by Doxycycline susceptible organisms in dogs and cats including skin infections, such as pyoderma, folliculitis, respiratory infections, genitourinary infections, otitis externa and otitis media, osteomyelitis and puerperal infections.
Dosage:
Give a dose of 1 tablet per 10kg (22lbs) body weight
then 1/2 tablet per 10kg (22lb) body weight every 12 hours for two doses,
then a maintenance dose of 1/2 tablet per 10kg (22lbs) every 24 hours.
Give with or following feeding.
Continue therapy for 48 hours after symptoms have subsided.
Specifications
For
Dogs/Cats 10kg (22lbs)
Active Constituents
Doxycycline Hydrochloride 50mg
Application
Oral
Doxyvet Antibiotic Tablets
Not for sale to Australia