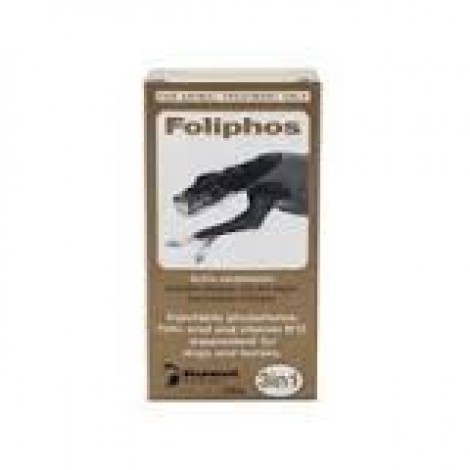 Active Constituents: Butaphosphan 100 mg/ml, Folic Acid 2 mg/ml, Cyanocobalamin 0.05 mg/ml.
Injectable Phosphorus, Folic Acid and Vitamin B12 supplement for horses and dogs.
Foliphos 3 in 1 injectable.
Performance, exercise stress and recovery.
Phosphorus is essential for cellular energy production.
It is a major component of ATP, the energy source for muscles, and of creatine phosphate, the muscle storage form of high-energy phosphates.
Sterile technique and equipment must be used for each injection.
Dosage: Give by intramuscular or subcutaneous injection.
Acutely diseased animals:
Small Dogs: 0.016 – 0.057floz (0.5 - 2mls).
Large Dogs: 1.016-0.169floz (0.5 to 5 mls).
Horses: 0.676floz (20 mls).
Or directed by a veterinarian.

Specifications
Active Constituents
Butaphosphan 100 mg/mL, folic acid 2 mg/mL, hydroxocobalamin acetate 0.05 mg/mL.
Foliphos 3 in 1 3.38floz (100mls)